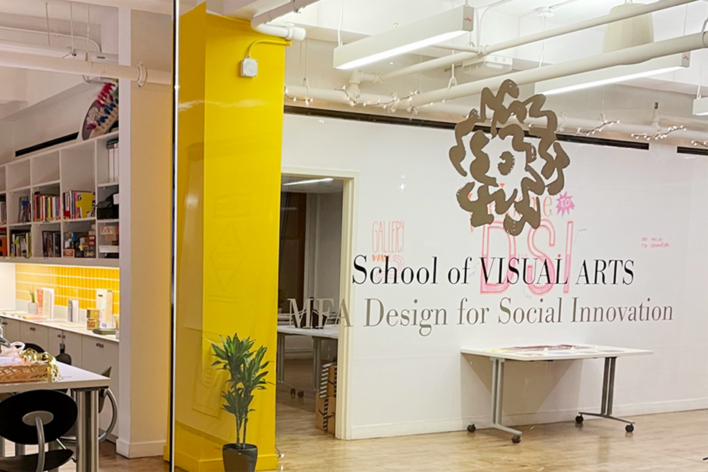 Fall in New York City means the leaves are changing colors, and it's time to gather together for Open House at the MFA Design for Social Innovation (DSI) program in the School of Visual Arts.

RSVP and come get to know DSI, in-person or virtually. 
Connect with creative DSI students, visionary faculty, and working alums. See and hear examples of how social design supports care in our communities, systems, and planet. If you are curious and ready to make a change, RSVP to the MFA DSI Open House now! 
We have two upcoming events:

THURSDAY, OCTOBER 27 – 9:00-10:30 AM EST
Zoom with DSI students, faculty, and alums. Ask questions to our international students about their DSI experiences living in NYC and being social designers in the world today. Hosted by Miya Osaki, DSI chair.
—
FRIDAY, NOVEMBER 4 – 5:00-8:00 PM EST
Gather together for drinks, snacks, music, and more! Meet our community of students, faculty, alums, collaborators, and others like you at our Chelsea DSI studio in NYC (where everything happens!). See an exhibit of projects, prototypes, and real-world collaborations. Hosted by Miya Osaki, DSI chair. This event is masked and proof of vaccination is required.
—
Planning to Apply for Fall 2023? Open House attendees will receive an $80 application fee waiver if they apply for Fall 2023 admission (Note: This waiver will be applied to the email address used to register for the Open House. It is important to use the same email address consistently throughout the entire application process).
Interested in graduate study? 
APPLY NOW to join DSI's Fall 2023 cohort. 
Priority deadline is January 15, 2023, to guarantee consideration of financial awards.
Banners by student Jenny Lau, DSI '24.