At Design for Social Innovation, we want to support designers who center on communities, not just themselves.
At MFA Design for Social Innovation program, students will design, create, and facilitate the social conditions and relationships that will help foster community-centered collaborations that result in lasting social change. As a graduate department in the School of Visual Arts (SVA) in New York City, we support enduring connections in art and design to increase creativity and imagination in all aspects of life.

Through social design, students learn a deeper understanding of how to apply their design practice to systems of ever-growing complexity. By building and expanding on possibilities of what design can be, we support our students to embrace and find new ways to tackle past, current, and future questions about how to build our world.
The future needs you.
Read about our Frequently Asked Questions (FAQ)
Check out our studio Facilities

And say hello at dsiinfo@sva.edu.  Follow us @svadsi
Photo description:  Learning in community Chuyao Geng & Ishita Jain (DSI MFA '18) on their thesis project, Canversation.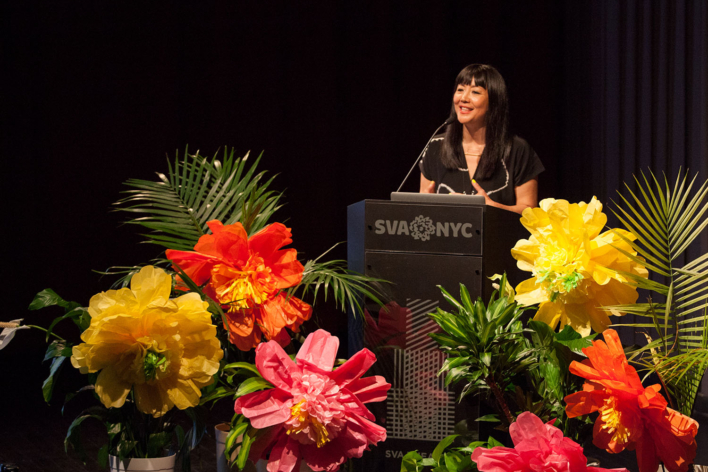 Chair's Letter
This is our 10th year anniversary of the MFA DSI Program. It's been a long decade, and while aspects of the world have shifted drastically from when this program was started in 2012, our core emphasis on supporting, creating, and growing together for possibilities has only flourished and strengthened.
We're back working at the DSI studio fully in person. After the last three years, the emphasis is on the social in social design. This work is collaborative, and as such, it's dynamic and complex. And it takes adaptability and courage.
Activist Yuri Kochiyama said Life is not what you alone make it. Life is the input of everyone who touched your life and every experience that entered it. We are all part of one another.
In the field of social innovation, it can be easy to overlook how far much we have developed and grown in our work. This also applies to our relationship with ourselves and to each other, especially if we are devoted to progress and practice.  
The critical thinking and collaborative work that we have done together is creating new possibilities, and it is important to honor and reflect that generative work as also design work. So with this new website, we'll continue to change, iterate and learn. We're grateful to The Disabled List, Sublation, 1 Trick Pony and Iris Xie for your brilliance and collaboration.
In the next year, it is important to celebrate what we have accomplished in the last 10 years, and through that retrospective, see how we can re-strengthen our commitment to our values and how we want to move forward as a community of designers. Keep an eye out for DSI-10>> activities where we'll engage with people across the globe, over the next two years.
For now, I hope that you can take inspiration and joy from what has come before you and that it helps support and spark your possibilities for what to do next. It is hard to imagine what the next ten years could possibly look like, but for now, take the time to breathe and reflect on what you have done in the last month, three months, six months, a year, all the way to ten years, and beyond.
You have been on this journey too, and we are grateful that you are sharing your journey with us. 
With care,
Miya Osaki, Chair
October 2022
Photo: Miya Osaki speaking at the DSI Thesis Show 2022