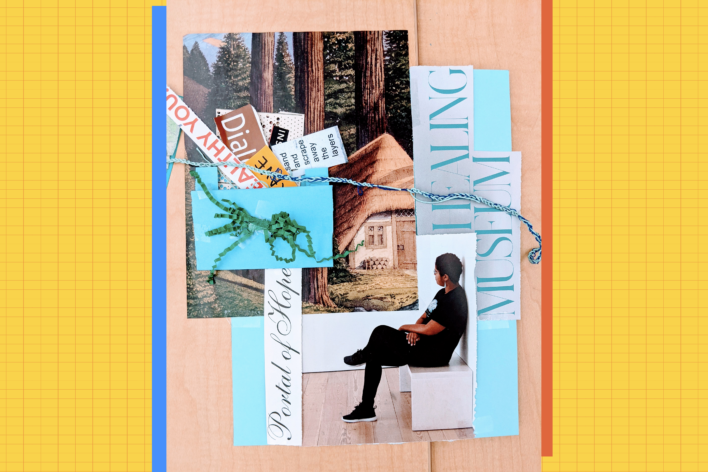 As design becomes more integrated into social impact spaces that help create service delivery and program design, a core part of the work becomes engaging with community organizations and community members in a thoughtful and meaningful way. The role of the designer becomes a facilitator of process, collaboration, and outcome. When working with community members, designers have a specific responsibility to create safe spaces with the people they engage with–especially social impact designers working with populations who are dealing with trauma and mental health.
Last week, Jenny Lin ('22) explored the applicability of art therapy practices in social design spaces. Her thesis investigates community design as a system, and how relationships between designers and community members can turn from what can feel like an extractive transaction into a reciprocal and transformative relationship. She reached out to the SVA Art Therapy program to introduce the benefits of art therapy practice as a healing engagement, and 1st and 2nd year students explored the connection between making, sharing, and sense-making.
Many students are exploring topic areas of mental health and trauma in their theses, and showed up to this workshop in support or curiosity of the topic. First years are currently developing their topics of choice, and are exploring themes of anxiety, medical trauma, and collective healing. Second years include Zahra Bukhari, who is exploring intergenerational trauma in South Asian women, Mickey Ferrara, who is uplifting the integration of youth voice in schools and learning environments, and Neil Jia, who is looking at mental health in Asian American communities.
The takeaway is that many times, our bodies know before our brains do. When it is difficult to know what to do or say, exploring the images that come to mind help us navigate the energy stored in our bodies.
Special thanks to the Art Therapy program Stephanie Gorski (SVA Professor), Erin Bivens (2nd year), Elizabeth Boyer (1st year), and Valerie Sereno (Special Programs & Projects Coordinator), for hosting and facilitating the workshop.