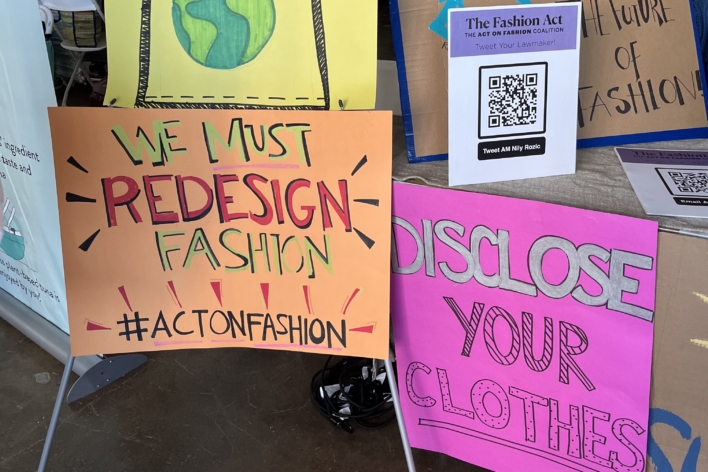 This week's blog features guest writers: first-year DSI-ers, Maggie Wong and Bhavya Chaudhary as they reflect on their visit Marketplace of the Future. Dreamed up by alum Amer Jandali (DSI '16), Marketplace of the Future–the Official Vision Partner for Climate Week NYC–is a World's Fair presenting a vision of a time in which all companies are sustainable. Read on for their highlights:
Maggie Wong (DSI '24)
Marketplace of the Future was an eye-opening event where I was exposed to individuals and organizations who have been making a committed impact in promoting and practicing sustainability. The venue was mindfully decorated with greenery and interactive activities that helped me to reflect on my possible roles as a designer as well as showcased the work of established practitioners. These sectors ranged from partnering with professional athletes for advocacy, youth and adult education, a musical via virtual reality, grocery delivery, event suppliers, tourism, and more. Connecting with them made me more keen to identify practical ways where I can better incorporate sustainability into future work. 
Bhavya Chaudhary (DSI '24)
As the Vision Partner for Climate Week NYC, [Marketplace of the Future] showcased climate innovations of tomorrow that promoted the ideas of circularity, renewable energy, regeneration and social equity. [The halls featured] everything from composting, battery storage, carbon capture, green hydrogen, ocean restoration, reforestation, solar energy, and more. Initially I thought it would be a very formal conference-like event, but when I [arrived, I found that] the halls halls were so lively, exhibitors were all from diverse backgrounds, there were founders from various sustainable businesses, a live music performance, a zero waste bar, and [a shared sense of] climate camaraderie.