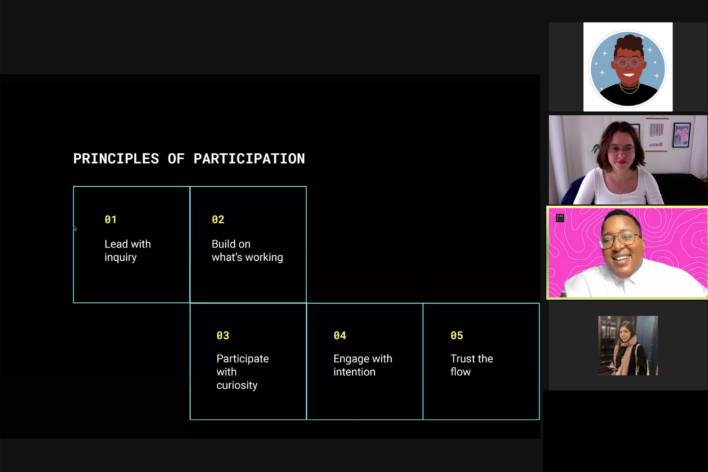 Summer 2022 Masterclass

Community Design for Leaders is a collaborative learning space intended for designers & creative professionals at various stages of their practice. Developed by FLOX Studio. 
Community Design for Leaders offers participants:
A framework and values rooted in methodologies for community-engaged design practices
An environment to develop a deeper and more nuanced analysis of power and position within the field of design
Relationships with a community of designers invested in disrupting the status quo
Design wasn't developed with community in mind – and the impact of this is felt in every element of our work and our lives. From underutilized and unsightly public spaces to research practices that don't center the urgency of the people involved, we need to accelerate design's ability to respond to the systemic and complex crises of this moment. We need design to be a toolset for change. A pathway to a future where power isn't held by one, but by many.
How do we get there? Community Design.
Community Design is a community-generated design framework from the 1960s and 70's that's made a resurgence in the last several years. Unlike Human-Centered-Design, Community Design provides a path to shift not only WHO is doing the work but WHAT the work is and HOW it is done.
Leaders will leave with:
Knowledge – A deep understanding of the role of design in private and public sector mission-driven work; and what it means for your leadership practice
Resources – Models, templates, tools, and tactics to shift to a framework of power, belonging, and inclusion
Community – New relationships and a virtual community of support, scholarship, and practice
This intensive is facilitated by DSI faculty-at-large: Sloan Leo (they/he), the Founder & CEO of FLOX Studio Inc.
A share of the course profits will be used to support DSI's Equity in Design Award which addresses intersectional inequalities in design and promote equitable pathways for underrepresented designers.
There are six modules in this course:
The case for Community Design
Understanding Yourself as a Designer
Developing Your Community Design Practice
Explorations in Collective Inquiry
Facilitative Leadership
Moving from Insight to Action
Each module will include:
Pre-class learning materials (guidebook, learning decks, and optional readings)
In-class lectures and practice space
Peer to Peer work time (3 hours of peer-to-peer time will need to be scheduled outside of class time)