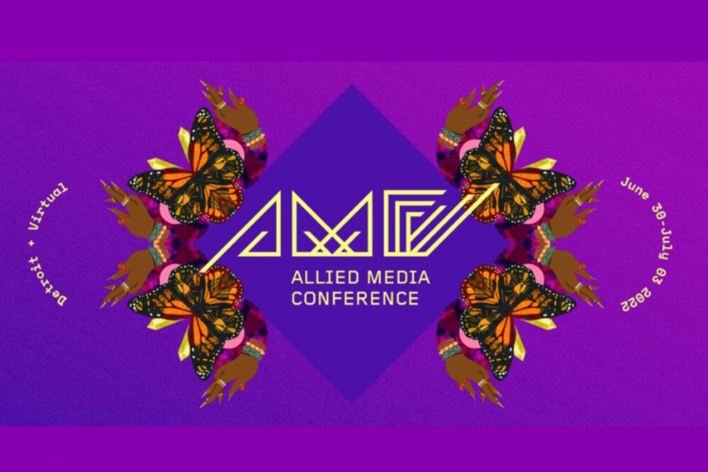 "5 things social designers can learn from the Allied Media Conference"
Reflection by Jenny Lin and Mickey Ferrara, Class of 2022
Attending the Allied Media Conference (AMC) feels like coming home to a family you've never met. It's like stepping into a living room full of aunties and uncles and unties who have many choice words about the systems in place, but fill the air with so much fierce love and dedication for you and your community, that the impossible dreams you were scared to dream actually start to feel within reach. The future is bright. The possibilities are abundant. Collective visioning fuels radical imagination about the futures we are all a part of creating. 
This is what makes AMC so transformative.    
This year, AMC was held online for non-Detroiters, as a way to 1) combat the impacts of air travel, 2) provide innovative access that centers Disability Justice and Language Justice, and 3) creatively gather during an ongoing public health crisis while centering wellbeing. While we believe AMC is an event where you just "had to be there", here are a few highlights and takeaways from two social designers (one based in Seattle and the one in Brooklyn) that we believe should be top of mind for social designers.
We ask you to journey with us through this series of tweets from the weekend, each of them holding insights, brilliance + abundant ways forward. 
1.

Community is not shared, it is created. As social designers, we have to be aware that we are learning from each other constantly. When we show up in community, we model commitment to each other and ourselves.
2.

Healing harm is not a transactional act. You cannot heal if the systems that have caused grief have not been dismantled. Reckoning with grief is learning from grief. Understand that grief is both a radicalizer and a vehicle for reactionary politics.
3.
We are in a stage of intelligent goo. Did you know that if you cut upon a caterpillar's cocoon, it's not in the shape of a caterpillar turning into a butterfly? It's actually just a big mess of intelligent goo. We're in a pivotal moment in history, where we're turning into something new – and we're not completely one or the other yet.
4.

Everything you do, matters. The resistance comes when we shift and transform ourselves, create and feed the narratives that give us life, and pay attention to what moves us into being. From making space for people to show up, to asking the questions with criticality and love, we are creating the world every day.
5.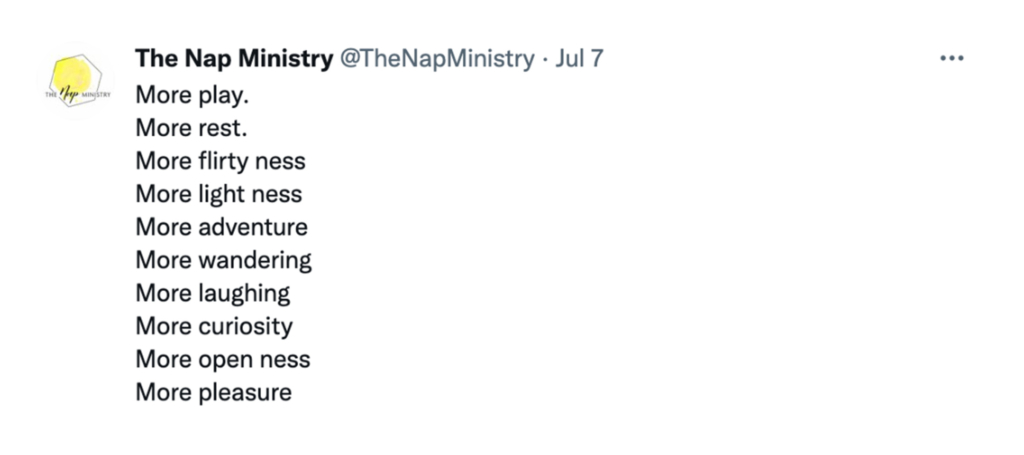 Rest is essential. Resisting grind-culture means we are actively committing to the urgency that white supremacy has imbued in us, our ways of working and our transactions. We rest so we can play, think, flirt, create, wander. We center rest so we can have the spaciousness to create a world that centers rest. We center rest so we can make more space for dreaming.
The future is joyful.
We create what we want to see, and together, we design a more just, equitable and liberated world – one large enough to hold the visions of this glorious homecoming, for us and all of our siblings.
—
Music from the conference: Symbol, by Tunde Olaniran